LIONEL Messi is his 'idol' and 13-year-old Martin King has dreams of one day walking in the footsteps of the player many believe is the best, or at least one of the best to ever grace the sport of football."I started playing when I was two years old," said Martin who recently returned to Guyana following a stint at Barcelona's Camp Nou – the home of FC Barcelona.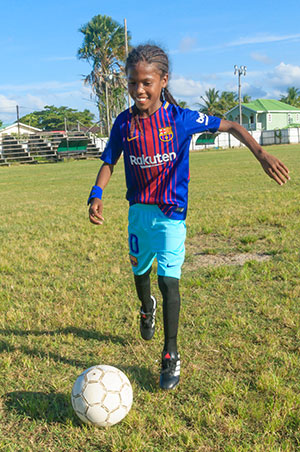 Martin 'Messi' KingKing won a Milo Skill Challenge and joined other players from around the world who were given a chance to train in one of Spain's most famous and populated cities."It was an amazing feeling to train in Barcelona. I mean, that's where I want to play football as a professional," said the bubbly teenager.Just like his football idol Messi, Martin doesn't look his age and some defenders learn the hard way to 'not judge the book by its cover'.Some pundits say he reminds them of a young Gregory 'Jackie Chan' Richardson; short, witty, skilful and very deadly with the ball.Richardson, 35, is touted by many as one of the best player of his 'generation'. He was the first Guyanese-born player to feature in the USA's Major League Soccer (MLS) when he had signed with the Colorado Rapids in 2009.But for Martin, who said, "Jackie Chan is a great player. I saw him play and he's one of the best. But, honestly, I want to be like Messi. That's my favourite player and one day I want to play at Barcelona just like him."PLAYING FOR BARCELONAKing broke into prominence during the Petra Organisation's COURTS Pee Wee Schools Football tournament where he featured for Enterprise Primary.He was a tournament favourite, though his school didn't win, but made it to the final.It was his style that grabbed spectators' attention and as word spread about the player from Enterprise Primary, who seemed a 'cut above' his peers, Banks DIH's Thirst Park ground was filled on Sundays as persons flood the venue to catch a glimpse of the little magician.'Messi' as he is more popularly known, was also the outstanding player for his Fruta Conquerors Club, where he pledged his allegiance, but also made it clear that his ultimate goal is to reach the Capital of Catalonia.
Martin 'Messi' King shows off some of his skills in this Delona Williams photo."My goal is to be the best player at Fruta Conquerors and Guyana. But honestly, my dream is to play for Barcelona, the best club in the world. Messi is my favourite player, I try to do everything like him, so I train hard, try to do good at school, so one day, I will be able to be just like him and do my mother and family proud."He continued: "Yes, I would love to play for Guyana. Everyone would be glad to play for Guyana, but for me, I want to reach Barcelona, that's my dream – to play at Barca."Asked about his stint at the club and joining other players from the rest of the world, Martin said, "It was great, like a dream come true for me. We didn't get to meet the players, but we trained where they trained and did everything just like them. We had some great sessions. I wasn't nervous you know, I just did my thing and the coaches saw me and were happy. I told them that I'm from Guyana and plenty children like me could play good football."HOW IT ALL STARTEDMartin's mother told Chronicle Sport that her son did everything with his feet since he learnt to walk. "If you tell him to pick up something from the floor, he used to kick it. He goes to the shop; he kicks everything he saw on the road. He's always with a ball and his older brother just decided to let him start playing football.""He joined Fruta Conquerors Football Club and that's it; everything for Martin is about football. After school, he would go straight to training at the Tucville ground and then he would go straight home," she said.The woman said that she's proud of him, especially given the fact that despite his spending plenty time playing football; he still finds time to do assignments and focus on his education."I don't have any problems with Martin at all. He comes home, does his school work; go to school on time, train and do whatever you tell him to do. He's a pleasant child. That boy's life is all about football; everything for Martin is about football, said Martin's mother.SupportAccording to her, she's grateful for the support of family in helping to get him the proper playing gear. She told Chronicle Sport "football shoes are not a problem for Martin. He gets a set. Only the other day I told him take the old ones and the ones that can't fit anymore and give them away. I know plenty children would love to have them. They're in good condition but just got a little close for him."Even Martin was thankful for the support, stating, "Well, my stepfather would help me a lot, and then my uncle and other family and so on; they would give me stuff."For what it's worth, Martin's mother believes that her son has a gift and she encourages him to play the game he loves and said that she's willing to continue supporting him.As for Martin, he intends to stay committed to the game and do all the right things that will hopefully one day see him living in Spain.